If you're a "serial sailor" or a "frequent floater" you'll love what the cruise industry has in store for Fall 2019 and early 2020. Here is a sneak peek at four of the most anticipated ships on the horizon. 
Sky Princess (Fall 2019)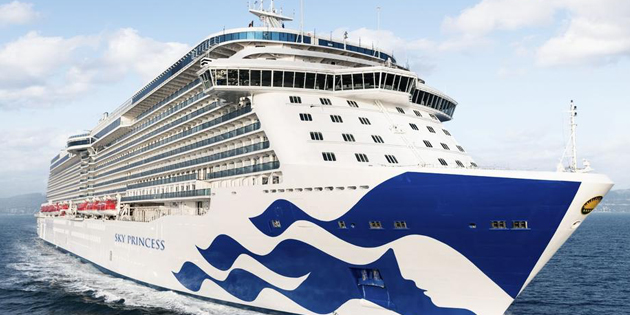 Princess' fourth Royal-class ship, Sky Princess will feature a new suite category called Sky Suites. Located at the top of the ship, the suites will feature 270-degree views, plus occupants will be able to watch the ship's Movies Under the Stars without leaving their room. Sky Princess' main pool deck will have two pools and more hot tubs than other Royal-class ships. A third pool, the Wakeview Pool, will be located at the back of the ship, while a fourth pool, the Retreat Pool, will be for adults only. Eighty percent of cabins will have balconies, there will be 9 new restaurants, and a new addition to the fleet; the ship's Take 5 Jazz Lounge.
Carnival Panorama (Fall 2019)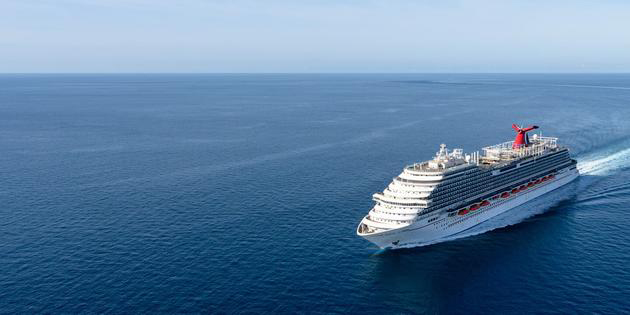 New to Carnival Panorama will be the 3,000-square-foot Sky Zone Trampoline park on Decks 6 and 7, which will feature a 12-lane trampoline court as well as an adjacent recreational area with a climbing wall, balance/jousting beam, Sky Ladder climbing apparatus and Tug of War. At night, the park will host blacklight glow parties. The new exclusive Havana cabin section will boast its own Cuban-themed pool (exclusive during set hours). Panorama will also maintain popular eateries such as Guy's Burger Joint, Fahrenheit 555 steakhouse, Bonsai Sushi & Teppanyaki, Guy's Pig & Anchor Bar-B-Que Smokehouse and Brewhouse, and BlueIguana Cantina.
Virgin Scarlet Lady (Early 2020)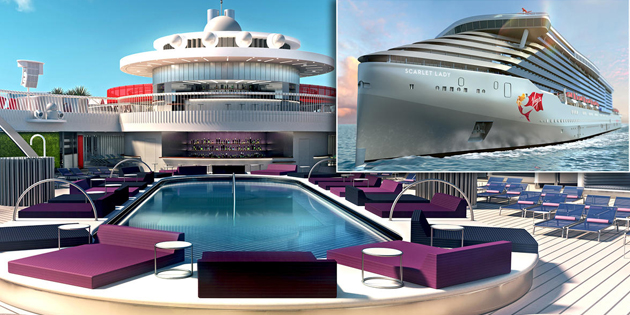 Of the line's 1,408 cabins onboard Scarlet Lady, 93 percent will have ocean views and 86 percent will have a balcony (aka Sea Terraces). All standard cabins will feature an in-room entertainment system with a 43-inch and 4K flatscreen HDTV, mini bar, desk with mirror and flexible wardrobes. Rooms with balconies will have handcrafted hammocks on them. The ship will have 78 RockStar suites that include retro-futuristic designs with yacht-like touches such as leather finishes and marble bathrooms; amenities that include working vinyl turntables (with a collection of classic records), terrace hammocks, full bars and cocktail kits with the first round on the house. Benefits of staying in a RockStar suite include priority boarding and early access to on-board entertainment, restaurants and excursions; and even private transfers to and from the ship in Miami. The Scarlet Lady is an adults-only ship (you must be 18 or older) with more than 20 places to grab a bite to eat with no extra-fee restaurants and will feature the first-ever Tattoo Studio at sea
Celebrity Apex (Spring 2020)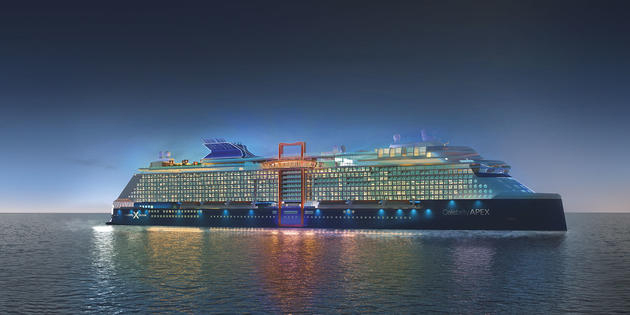 The biggest wow feature on Celebrity Apex will be a movable deck, which Celebrity calls "the Magic Carpet". This debuted on Celebrity Edge. The tennis-court sized deck is cantilevered off the side of the ship and can move up and down, from the bottom at Deck 2 and up to Deck 16. Its function will vary depending on which deck the Magic Carpet has been placed. Celebrity's Infinite Verandas make the balcony a part of the overall cabin, thanks to bi-fold doors that can be either completely closed creating a true balcony or left open, creating a sunlit indoor space that adds more space to the room. The balcony features a floor-to-ceiling window that can be opened when the bi-fold doors are closed — again creating the "real" balcony feel. Apex will have 918 Infinite Veranda cabins, including 16 single-accommodation rooms; the first time Celebrity has catered cabins specifically for solo travelers. The largest of the two new suite categories will be the two Iconic Suites, each coming in at more than 5,000 square feet. Both will be located above the bridge, facing forward, giving occupants the same view as the captain.
Ready to cast off? Contact us or a Travel Masters experience specialist to find out more info about these awesome new ships!
Contributor
Sean Mitchell